PTG will update Anesthesia Touch in the App Store on Thursday, July 6 at 4 AM Eastern US. Organizations and users should prepare to update the iPadOS client that morning. This update includes three major areas: the Patient List, the PreOp and IntraOp user interface, and Blood Product Barcode scanning. We've redesigned the Patient List to display case statuses dynamically. To complement the update, we also revised the PreOp and IntraOp interfaces to improve legibility. Finally, there is a new revised workflow for Blood Product Barcode scanning.
What's New
To better view the status of cases "at a glance," the Patient List has a new card style listing with configurable statuses for cases in PreOp, IntraOp, and PostOp. (See Patient List Case Status Highlights)
To improve legibility in the application, PreOp has a new higher contrast user interface. There are similar, but smaller, updates in IntraOp.

To support an option for a validation for PreOp diagnosis based on the procedure information, an optional validation configuration is now available

(e.g., "if the PreOp Procedure is colonoscopy, require a PreOp Diagnosis."). [Revised for clarity 2023-06-29]
To support more recent iPad models, the Blood Product Barcode scanning workflow no longer prompts for confirmation of errors or scans.
To remove documents that were incorrectly started, clinicians can now remove an unsigned document via the "Remove" button in the toolbar.
To make checking on current case statuses from the web easier, WebAdmin's Docs Review page has several improvements to load more quickly.
To support reporting on medications by class, Touch Analytics can now generate reports of administrations by medication type with the new function "AdministeredMedByType."
Other fixes and improvements
Patient List Case Status Highlights
In 4.5.196, the Patient List has a new card-like style to better show current case statuses.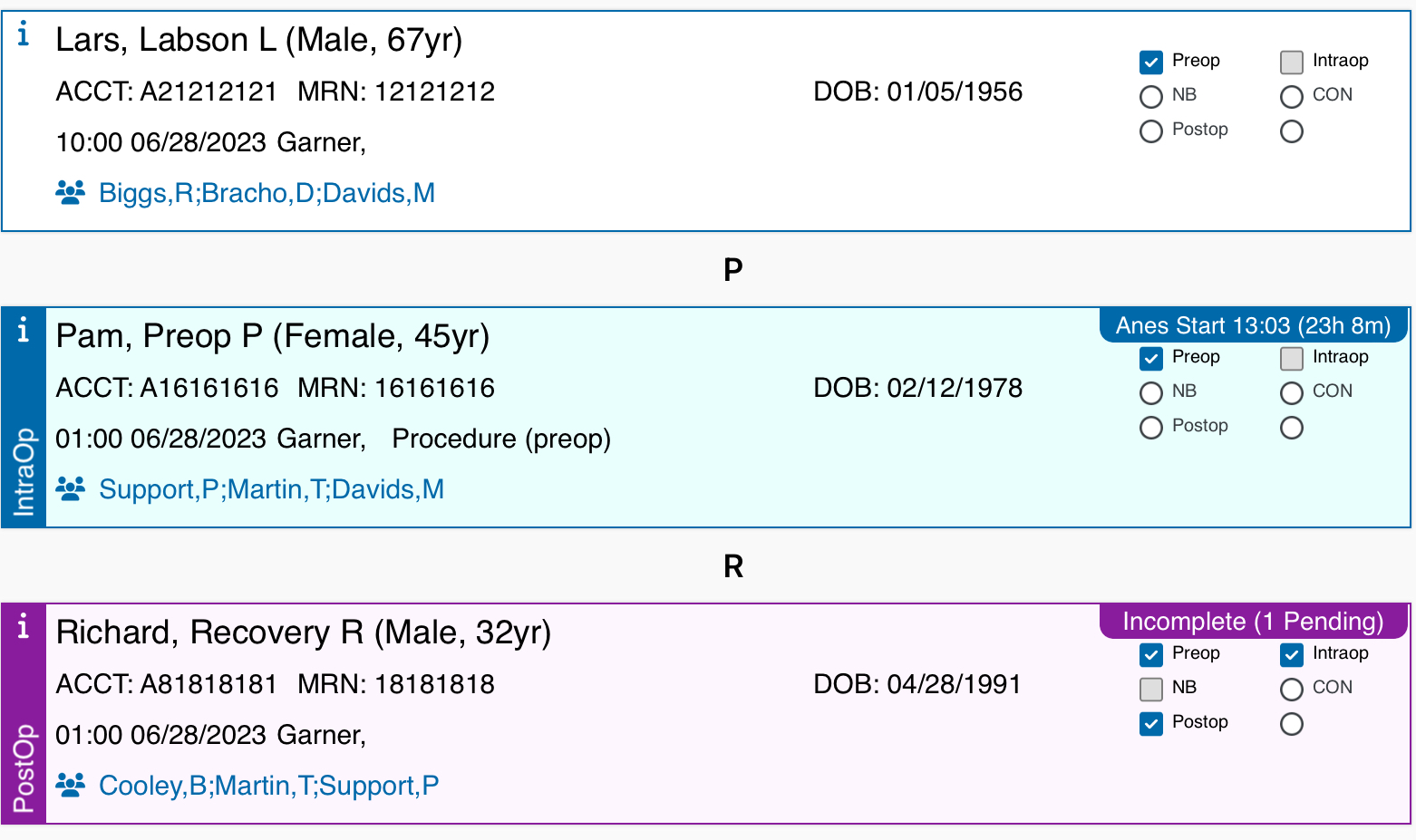 Default Highlights
By default, the Patient List will only highlight the "In IntraOp" status (previously a green badge), the "Post Op" status (highlighting a case with unsigned documents), and cases cancelled by Anesthesia (gray).
"In IntraOp" now shows the charted Anesthesia Start time; charting the Anesthesia Stop time removes the highlight:

The new "PostOp" highlight is shown until all started documents are signed; this can be configured to include specific documents if they are always required to finish a case. The "Post Op" highlight can be disabled, as well.

Finally, there is a new "Cancelled" lowlight, dimming cases that have been documented as cancelled in Anesthesia Touch. Cases can be cancelled–and reinstated–directly from the Patient List's "Case Info" dialog by touching the case info icon on the left (the "i" icon).

Optional Highlights
If desired, a new "PreOp" highlight can be configured to highlight when a case's PreOp Evaluation is created (started) OR signed.

If specific documents are configured as required, then cases are marked complete and highlighted. Any set of documents in Anesthesia Touch can be configured as required to complete the case. For example, a practice may require a PreOp Evaluation, an Anesthesia Record, and a PostOp Evaluation.

Even if specific documents are required, all started documents must be finished and signed for a case to appear "Completed" and green.
If a document is accidentally created, unsigned documents can now be removed from the case from the Document toolbar. (If a document is incorrectly removed, it can be reinstated from WebAdmin's Manage Documents.)
PreOp UI Refresh
The Anesthesia PreOp Evaluation has a refreshed user interface to increase contrast and legibility.