PTG will update Anesthesia Touch in the App Store on Tuesday, November 14th. Organizations and users should prepare to update the iPadOS as soon as possible. However, this version of Anesthesia Touch is compatible with the previous release and clinicians can use the old version for limited charting if necessary. PTG strongly recommends all iPads be updated as soon as possible after the update.
The version of Anesthesia Touch for iPadOS to be released will be 4.5.197. 4.5.196 will have limited support for charting, and all prior versions of the iPadOS client will be considered deprecated. 
What's New?
To allow for the addition of reference files to a case in Anesthesia Touch, providers can now attach and name a PDF to a case from the Patient List
To make it easier to understand the Patient List's case status highlights (e.g., Pending), clinicians can now see Pending Status of documents in the case row's documents menu and then select "View Documents" to see more information for all documents
To make it easier to see the Patient List by Case Status, the filter in the Patient List now has a "Case Status" group to filter the list by case status (e.g., just showing "Pending" or "In IntraOp" cases)
To allow for editing patient information when the IntraOp Anesthesia Record is not used for a case (such as a block), clinicians can now update Patient Information if needed from the Document Header
To print an Anesthesia Record before all validations have been cleared, clinicians can now open the Preview for the Anesthesia Record and select to print. Anesthesia Touch will show a warning if not all validations are complete, but clinicians can now elect to continue to print
To require the fetal heart tone after the placement of a spinal, AT can now be configured to provide a conditional validation for this reminder
Other fixes and improvements, including for iPadOS 17
iPadOS Images: Documents View
Pending items will be marked, and if a required document has not been started it will appear in the "New" submenu (required documents can be configured but must be completed for every case once required).
Note the new "Pending" indicator and menu item for "View Documents:"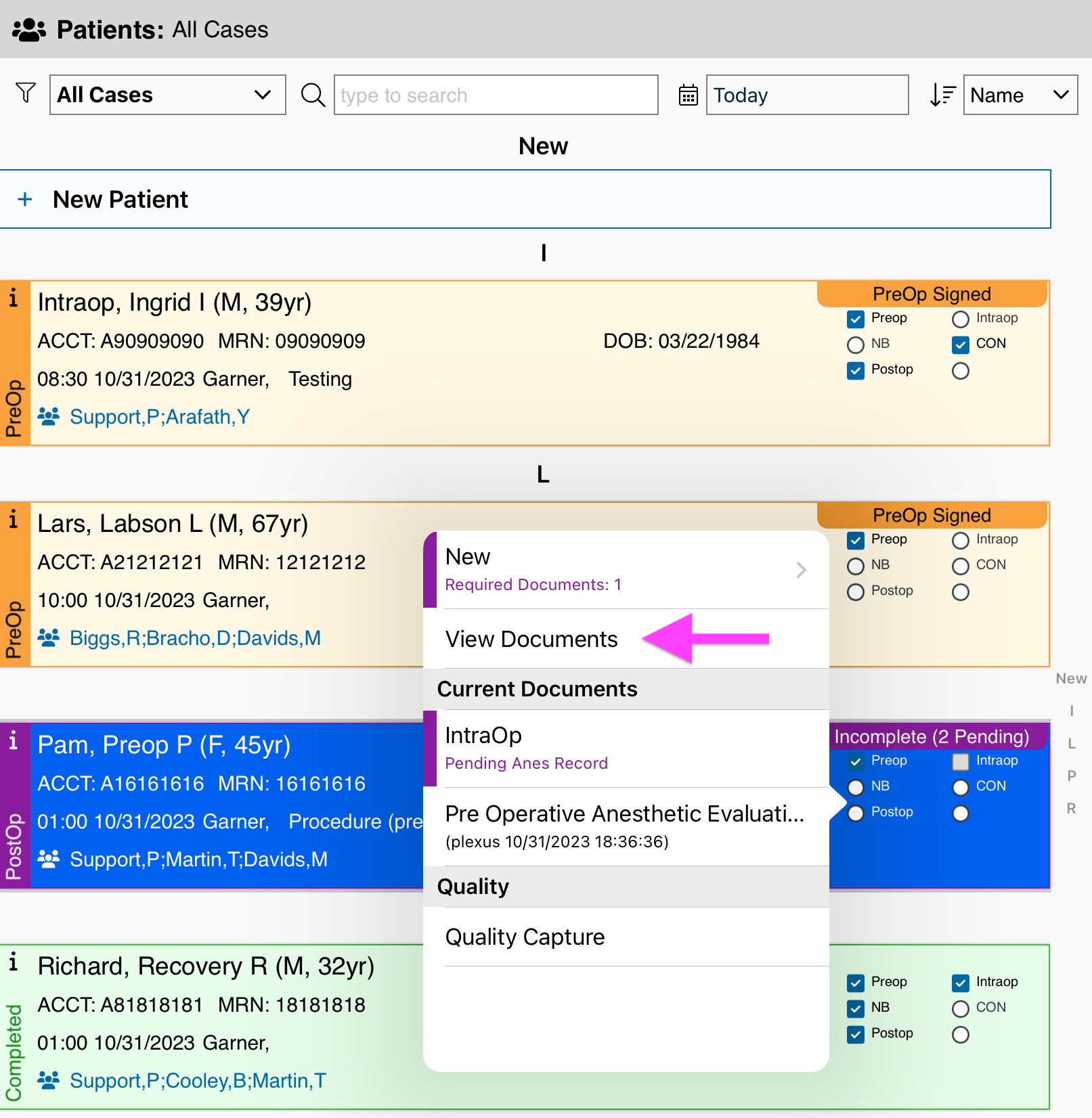 The new "View Documents" menu has more detailed information: